"Werner-Hartmann-Zentrum" (WHZ) for technologies of electronics is a competence center of the Faculty of Electrical and Computer Engineering of Technische Universität Dresden.
WHZ is a platform where technologically oriented professorships bring in their equipment and based on this ...
... enhance the availability of single processes and complete technological paths for internal aas well as external use in projects and for scientific services.
... acquire new research and cooperation partners by the comprehensive presentation of technological options.
... use synergy effects in operating the technological equipment.
... standardize processes and cost structures in providing services.
... ensure the durable operativeness of the equipment.
... coordinate strategical decisions about supplementing the equipment pool.
... offer external interested parties a common interface for using the equipment.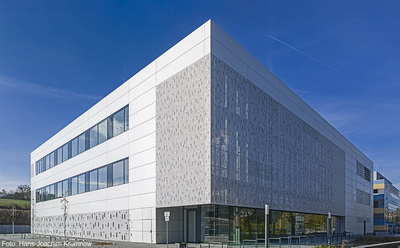 The core of WHZ is a high-tech building of the Faculty of Electrical and Computer Engineering which is in use since Octobre 2013, the so called Werner-Hartmann-Building. Currently seven professorships of four different institutes do have excellent infrastructure conditions for students education and research
Management and coordination is organized amongst the participating professors.